Committed to Speed, Quality and Value!


Machinery Capabilities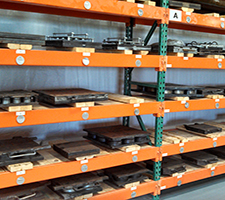 JDS Technologies Inc. is an ISO-9001:2008 certified company with an in-house machine and tool shop that provides expedited machining and tooling capabilities. Our capabilities include rubber compression, injection and extruding, plastic injection and extruding, stamping, cryogenic de-flashing and CNC screw machinery. We know where your product is in the production process at all times.
With a dedicated machine and tool shop that means zero downtime and no delays in getting your product to you with speed, quality and value.
Our in-house Engineers run and test machines and tools before your product is produced to ensure your specific requirements and needs are met.
Machinery
40 Rubber Compression Presses with Vacuum ranging from 30 ton to 650 ton.
22 Rubber Injection Presses ranging from 160 ton to 450 ton.
9 Plastic Injection Presses ranging from 30 ton to 450 ton.
5 Rubber Pre-Former's ranging from 2 inch to 6 inch.
6 Stamping Machines ranging from 75 ton to 350 ton.
6 CNC Screw Machines ranging from 1/4 inch to 4 1/2 inch.
2 Cryogenic Deflashing Machines.