Committed to Speed, Quality and Value!


Engineering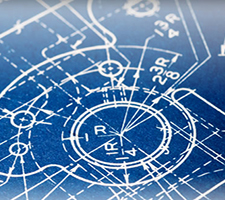 JDS Technologies, Inc. Engineering Department has extensive engineering experience to turn your design into a manufactured product.
Our experienced and knowledgeable Engineering Department is capable of designing the most complex parts. During the design process we can determine the most suitable and compatible material to meet all your requirements.
The opportunity to design products generally requires that we work with our customer's stage gating procedure. We are prepared to participate in these long term activities when required.
Engineering Capabilities:
Finalize product design
Prototype if required
Identify compatible compound, or specified compound requirements
Tooling design and build (generally 3-4 weeks)
material selection for durability
size and style for efficiency and precision
optimum number of cavities
inserted vs cut-in-plate cavities
Select process machinery
Develop manufacturing process
Specify bonding process, (for metal or plastic bonded parts) ◦degreasing procedure
etching procedure when required
grit blasting procedure
Project Development Structure:
Technical analysis.
Prototype development & analysis.
New production part launch.
Manufacturing release.
Project development closure.